Our Rooms
The four-storey hotel block has a total of 20 rooms. The hotel rooms and apartments come in different categories. All room s double as apartments for guests who prefer to stay for extended periods. The rooms are convenient for both short and long term stay and offer very comfortable homely facilities. The hotel apartment option is perfect for relocation, long-term assignments, temporary housing, and leisure travel. For long term assignment we have special long stay rates for guests who require accommodation for over 30 consecutive days.
Executive Rooms: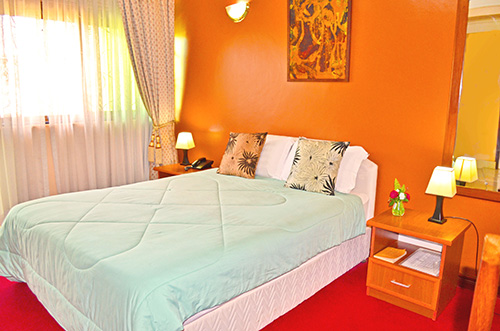 Wake up to this spacious room with a view of the city outskirts. The traditional room has large opening windows. Catch up on work at the desk or check your emails with free internet access These rooms have a kitchenette, living room, dining table and chairs and all have self contained bathrooms. Special touches: in-room magazines and newspapers (on order). Each suite has two televisions (one in the living area and one in the bedroom) and a telephone, connected to the PABX system.
Deluxe Rooms: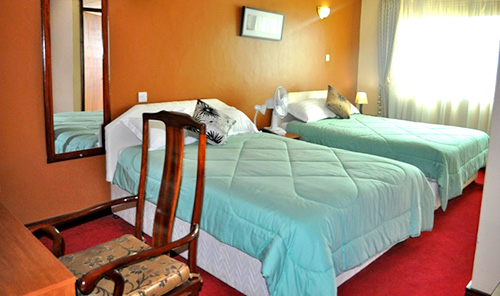 Soak up the view of the northern bypass and hills of Kampala from the large opening windows of this room. Get to work at the desk or keep in touch with internet access (free access). All rooms are self contained. You have a choice between single or twin bed options.
Two-bedroom apartment: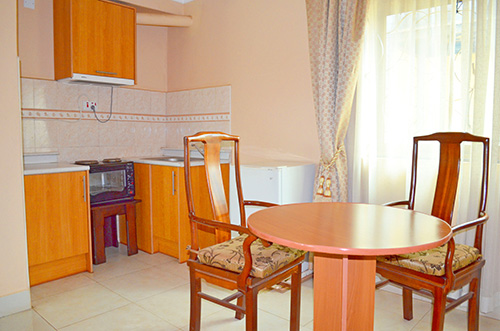 The hotel has a 2-bedroom apartment separate from the main hotel block, with views of the Kampala suburbs. Each room is self contained and has a television, phone and in-room safe. The apartment has a kitchenette and living room separate from the bedrooms.
All hotel and apartment rooms have access to digital satellite television (DSTV), in-room electronic safes, internet connectivity and telephones that are connected to the PABX system. The hotel is secure, with a stand by generator and in-house laundry services.